Green Meadows launched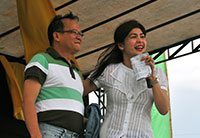 Roxanne Guinoo sings with an OPMC SR.
Orchard Property Marketing Corporation (OPMC) and Sta. Lucia Realty & Dev't. (SLRDI) have just added another premier residential project in its list as the two of the most trusted company in real estate industry jointly launched the newest residential landmark and the very first lake community in Iloilo and in the region–the Green Meadows Residential Estates.
Green Meadows Iloilo is a master-planned community located in Brgy. Ungka 1, Pavia, Iloilo and Brgy. Tacas, Jaro, Iloilo City. Green Meadows boasts first of its kind features and amenities such as the 5-hectare man-made lake ideal for boating, fishing, kayaking and jet ski. The Lake Victoria Paradise Island located at the middle of the lake also provides an avenue for relaxation and recreation.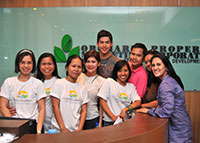 Jon and Roxanne with the OPMC Staff
at SM City Office.
Its 3-hectare country club on the other hand to be designed by W.V. Coscolluela & Associates, provides a variety of indoor and outdoor sports facilities for its future residents to enjoy. It includes a covered basketball court, badminton court, a fitness gym, billiards hall and ten-pin bowling center.
The launching event kicked-off with the Celebration of the Mass at 11 am followed by the breathtaking unveiling of the Green Meadows billboard through rappelling, the symbolic dove release and tree planting activity.
The whole day event was made exciting with the performances of the RCP Major 7 Band, Tribal Quest Dancers and the WVSU-PESCAR students. The excitement went even more intense when Roxanne Guinoo and Jon Avila showed up individually on stage to perform. The two also enthusiastically joined the crowd for a picture taking after the show.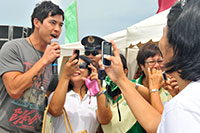 Jon Avila enthusiastically joins the crowd.
Other invited guests were Pavia Mayor Arcadio Gorriceta, Pavia Vice Mayor Guillermo Hisancha, Pavia Councilor Mike Gorriceta, Iloilo City Councilor Ed Peñaredondo and Engr. Jose Al Fruto of DPWH.
Also present were Mr. Exequiel Robles, SLRDI President & CEO; Mr. Jose Nano RSBS President; Mr. Ariel Palacios RSBS Executive Vice President; Ms. Liza Hizon RSBS VP for Marketing; Mr. Roderick Luna of the Real Estate Management Department of RSBS; Mr. Ed Tirona, OPMC President; Ms. Liezel Tuason-Magpoc, OPMC VP for Sales & Marketing and Ms. Ma. Irma Topacio, OPMC VP for Finance & Administration.
Green Meadows Iloilo is a joint venture project of SLRDI and the AFP-RSBS.