Starting Monday Metro Iloilo Water District (MIWD) will already leave to the four waterfront barangays suffering from low water supply the distribution and sale of water within their territorial jurisdiction.
Barangay captains in four out of six districts in Iloilo City have now come out with a collective stance – endorse Chief Presidential Counsel Raul Gonzalez Sr. as the city's next mayor. Never too early to talk politics, the city barangay captains decided, with manifesto and pledges of support issued.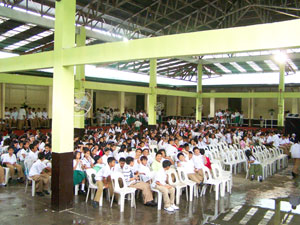 A.CHRIS FERNANDEZ
BACOLOD CITY -- The Alyansa Kontra Basura (Alkoba) led by its convenor Milagros Casilagan recently gave its unsolicited advice to the Global Legal Action on Climate Change (GLACC) to make further investigation on the facts concerning Bacolod City's alleged plans to comply with the provisions of R.A. 9003 otherwise known as the Ecological Solid Waste Management Act of 2000.