TWILIGHT
Baby Bob Turns 1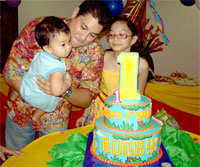 Baby Bob takes a candle blow with the
help of Dad Earl Robert as Nicole JL
watches.
'Twas the most awaited day when Baby Bob (Robert J. Barbers II) turned Year 1 as Lola Leda P. Barbers flew in from Manila together with sons Nino, Renier and Cupid to celebrate the happy moments on Baby Bob's birthday bash held at Las Villas Clubhouse in Bacolod.
Of course, Your Twilighter made sure she had time for the b-day bash and attended with friends and relatives as well.
Dear friends and relatives of the Barbers Family joined in for the ice cream, spaghetti, sandwiches matched with adults' favorite like goat caldereta and duck estofado. Hmmm. It was a costume party for the kids and a gathering of moms and dads of the children who came to join Baby Bob.
Among those in the clubhouse party were Leda's closer friends, Antonietta Gamboa-Araneta, May Sison-Uy, Rowena Javellana, Cristine Golez, Tess Bongco, to name a few.
Baby Bob's dad Robert Earl was all too happy Mom Pinky Javellana ensured a very enjoyable party with so many pabitins and gift bags for the party kids.
Nino Barbers flew in to from the Metro M with his GF, Claudine Trillo who also enjoyed being there.