Culture and arts in focus
Vinnie Tan talks about his passion for culture, arts, travel and his Christian faith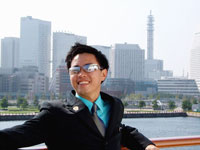 Aboard Nippon Maru from Japan.
In the culture and arts scene, perhaps the most visible person there is, is Prof. Vincent "Vinnie" Ramirez Tan.
He is U.P. Visayas' Special Assistant to the Chancellor for Culture and Arts. It's his task to plan out and organize activities related to the preservation and promotion of culture and the arts in the university and the community. He's active in pulling off exhibits, concerts, fora and workshops. Last February, the university had an Arts Month celebration and Tan organized a series of shows and stage performances, forums on Media, Entertainment and Society, Confessions of a telenovela writer, workshops on terracotta and painting and series of film showing, among others. Recently, he chaired the committee of University's Parangal, a commencement concert in honor of the graduates and their parent, featuring the UP Jazz Ensemble and Entwined Voices from UP Diliman.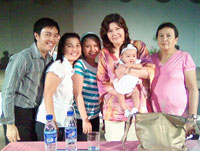 Vinnie, Leonora, Karen, Boots Anson-Roa,
Vien and Natividad.
He is also the curator of the UP Visayas Art Gallery.
As a faculty, he had 13 years experience in teaching general education courses in Communication Skills, the Humanities, Management and lecture or production courses in Broadcast Communication. After all, he's a graduate of M.A. Communications Arts of Ateneo de Manila University and MA Public Management of UP Visayas. His undergraduate degree was a double major in Broadcast Communication and Management.
TRAVELS
Tan has reaped numerous distinctions because of his dedication. He has served as one of the Philippine Youth Ambassadors in the 31st Ship for South East Asian Nations and was the director of the Cultural Stage show entitled Biyahe Tayo, Travel Philippines presented in Japan, Thailand, Vietnam, Malaysia, Singapore, Indonesia and Manila. He was the SSEAYP International Philippines 2006 National Awardee for Culture and the Arts and the 2007 Outstanding UP Professional in the Field of Arts and Letters, UPV.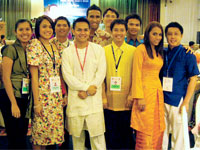 With SSEAYP batchmates from
Singapore, Brunei, Malaysia,
Philippines & Cambodia.
Last May, he was in Indonesia and Malaysia for the SSEAYP Ambassadors International Assembly. Since 2007, he had been attending the said yearly assemblies.
"Travel is a learning experience. Sometime, we can't just depend on academic teachings to learn about life. I believe that we sometimes have to purposely go out and venture. .. thrive and learn in the process of discovering other cultures and lifestyle."
FULFILLMENT
Tan said that he is quite fulfilled in his job. "There's fulfillment in seeing the cultural and art scene well-felt and appreciated, not just in the university but in the city of Iloilo. It is a natural high to be networking and befriending other individuals who are in the same thrust of arts appreciation."
OUTSIDE OF CULTURE AND ART
When Tan is not doing culturatee work, he spends time with his wife Karen and their baby, Lady Andrea Vien.
"I also like to watch movies, do beach bumming, read books and plan for local or international trips."
He considers as good reading materials are Dr. Hendrick's Teaching to Change Lives, John Maxwell's Life at Work, Warren's The Purpose Driven Life, Coehlo's The Alchemist and Like the Flowing River, Mitch Albom's Tuesdays with Morrie and Five People you meet in Heaven. For light reading and a good laugh, he skims books of Bob Ong. Of course, he makes it a point to read the Bible every day.
CHRISTIAN FAITH
Tan professes to having a strong Christian faith. "I believe in what I prayed for. For example, I asked God to me to see the wonderful key cities and provinces in the Philippines and I did … from Benguet down to Tawi-tawi. Then I asked further from God to grant me Asia and it materialized at the age of 28. I was able to experience the richness of ASEAN cultures in 2004," he said.
During the Holy Week, Tan and his fellow Christian young professionals organize and help out in medical-dental missions and crusades in different parts of the country.