Family bonding through angling fishing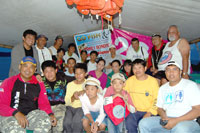 2nd Family Bonding Tournament
participants.
Building a better family bonding through fishing activity, Iloilo Game Fishing Association (IGFA) and Go Fish gathered the fishing enthusiast and their family for the 2nd Family Bonding through Angling Fishing Tournament.
These fishing enthusiasts shared their hobby of sports fishing to their kids and friends as they gathered to get a perfect catch at the Guimaras Strait.
According to Bong Sanagustin, one of the organizers, this event strengthens the parent and child relationship because it requires their effort to win the competition. Likewise, it builds camaraderie among people who share the same passion.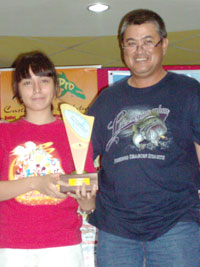 Sahar and Bog, 1st place team
Aggregate category.
Nine teams composed of a parent/guardian and their kids competed for one day. After the angling fishing tournament, each team's catch was weighed to determine the winning team having the heaviest catch.
Kerwin Jucaban, a young fishing enthusiast won in the 12 years old and below category after catching a 1 kilo of Lapu-Lapu (Inid). According to Kerwin, he was excited that day because it's his first time to go fishing.
In the parent category, 1st place went to Bong Sanagustin after catching a 2.9 kilo of Lapu-Lapu. Boy Jucaban and Mike Maquiran won the second and third place respectively. Jucaban catched a 1.5 kilo Lapu-Lapu while aquiran catched a 1 kilo Olibali (White Snapper).
In the team aggregate category, first place went to team Sanagustin and Omar, second place went to team Boy and Joshua Jucaban, and third place to team Mike and Kerwin Maquiran.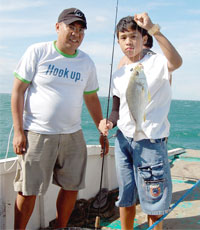 Mike and Kerwin Maquiran.
Winners received a trophy, medals and fishing lures from their sponsors.
Mike said that the angling fishing tournament helped him build a good relationship with his son because of the time they spent together and it enables him to imbibe the value of patience to his son.
"Fishing really tests your patience. As what an old saying goes, pag may tiyaga, may nilagang isda, which literally holds true", Mike Maquiran added.
Bong Sanagustin also shared that his son spurred him to start this annual event. According to him, he was touched when his son put the line "Pa, ma munit ta" to his high school yearbook since he also brought along his son every time he goes fishing every weekend.
Angling fishing has indeed became a hobby of numerous fishing enthusiasts in Iloilo. Angling fishing is a method of fishing by means of a rod and reel. The rod is usually fitted with a fishing reel that functions as a mechanism for storing and retrieving. The hook is usually dressed with lures or bait that serves to attract fishes.