Antiquenos celebrate Independence Day with jobs fair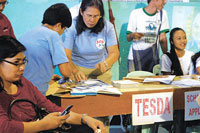 Antiquenos were very happy when the Provincial Government spearheaded a jobs fair in celebration of the 111th Independence Day last June 12 at the EBJ Sports Complex. This event followed after a program held at the EBJ Freedom Park.
The jobs fair was in coordination with the Department of Labor and Employment, TESDA and Department of Foreign Affairs who provided a mobile passporting.
According to Gov. Salvacion Perez this is a different celebration for Independence Day because the jobs fair helped Antiquenos find jobs.
Vice-Governor Rhodora Cadiao said this is one great opportunity for the people of Antique especially to those who are in need of work.
The activity was made possible with the participation of 11 recruitment agencies.