TWILIGHT
Wow! The world's biggest pizza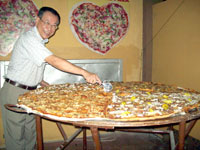 Department of Tourism Envoy for the
Asean and SKAL Club International Cebu
President Charles Lim proudly cuts what
could be the biggest commercially
hand-made pizza in the world available
for dining.
By the stroke of 7:00 in the evening last Thursday came out from the big oven the biggest commercial, hand-made pizza set to make a record as the biggest in the world that will be commercially available. When ordered, the pizza comes in quarter flavors or four flavors every order.
Mamma Maria's Pizzeria in Bacolod City invited media friends, businessmen, guests to witness the biggest pizza we ever saw in our life and many got excited when it came out of the big oven.
Seen at the launch were ABS CBN faces like Ragie Mae Taño-Arellano, Barbara Mijares and Marty Go who brought their TV crew; Sunshine Channel 14 President Amado Villacarlos Jr.; Negros Weekly's Dolores Epacta; On TV 12's George Sanchez; Bantay Banwa's Dot Soliven and Jun delos Reyes; and Annie Calderon, to name a few.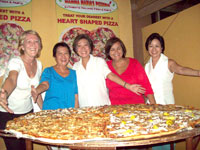 Jhay Montelibano with friends.
Officially cutting the pizza was Department of Tourism Envoy for the ASEAN and SKAL Club International Cebu President Charles Lim.
Also enjoying the pizza were Standard Insurance Manager Ariston Miñez Jr, golfer and businesswoman Jhay Montelibano, Rotarian Bong Estrella, and Amy Sy.
It was quite an experience and an exciting yummy evening.