TWILIGHT
Visiting Boracay Island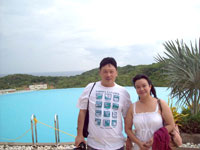 A pose at the infinity pool of the posh
Boracay Alta Vista 500-room Condotel.
Your TWILIGHTER drove to a three-night stay at different hotels in Boracay island just as rainy days started to pour over the pristine white sand there. An umbrella, rain jacket and medicines were part of the traveling bag.
It was an enjoyable stay at the island despite the strong winds and rainfalls as thousands of domestic tourists flocked the island to enjoy the blue waters and experience what 'Bora' is all about just before children go back to school again.
Just as we walked around we met the Fernan family who happens to be our relatives and they have been in the island for decades investing in modest businesses that made them prosper. There we saw their drugstore, Internet shop, health lab, convenience outlets and rooms for the island guests too.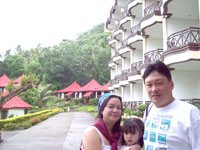 A pose before leaving Club Panoly with
brod Doc Tinton Javellana.
The waves were big when the winds blew at the island but no one could stop anyone from still moving on to see its beauty.
While we drove from Iloilo to Caticlan by island, we noticed that thousands flew in from Manila to Caticlan via Cebu Pacific serving the daily flights of tourists. Other guests came in flying Cebu Pacific via Kalibo International airport.
Just in time, we enjoyed our stay at the island as rainy days started to come in. That was a wonderful 'Bora' experience.