Relax your mind and soul at the Carmelite Missionaries Center of Life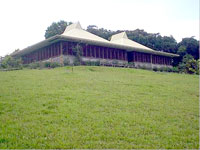 The pavilion.
Just as the body gets tired and worn out, so do the mind and the soul.
Far from the stress of smoggy skies and noisy city life is a haven for spiritual retreat and recollection – the Carmelite Missionaries Center of Life.
It is 42 kilometers away from Iloilo City and is situated at a nature-oriented scenery where a beautiful sunrise and sunset.
Its 15-hectare area is cultured to an agro-ecosystem that hopes to restore harmony to nature, promote integral human development and nurture communion with God.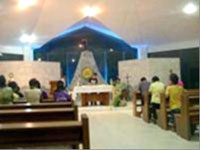 The chapel.
The CMCL caters to small and large groups for retreats, recollections, leadership trainings, reunions and family get-togethers.
There are 13 cottages called hermitages, each having four rooms, which is good for eight people if the activities would extend to more than a day.
A campsite is also available. One can camp under a clear starry sky while communing around a bonfire.
Near the campsite are basketball and volleyball courts. There is also an oratory, a chapel, five kiosks, the St. Jospeh shanty and porch, and a pavilion, which has dining and conference halls.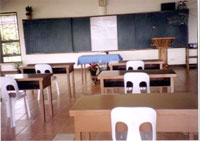 The conference hall.
Around the vicinity are corn fields, rice fields, vegetable garden, and an orchard together with their livestock, bio-gas, mushroom culture and vermiculture. The sustainable agriculture present provides the visitors with a sight that brings them closer to nature.
The CMCL also works for community organizing such as holding seminars for value formation of women and the youth and offering livelihood project through hog dispersal.
Together with a breathtaking view of the mountains, is the welcoming and hospitable nature of the Carmelite sisters that will make one's visit worthwhile.
At the CMCL the integral relaxation of the body, mind and soul can bring families and friends closer not just with each other, but also with nature and all of God's amazing creations.
The Carmelite Missionaries Center of Life is located at Brgy. Tinocuan, Dueñas,
Iloilo. Contact Sr. Marlene Cultura at 09214155447, (033) 3510193 or email at cmceteroflife@yahoo.com.