Agriculture at a Crossroads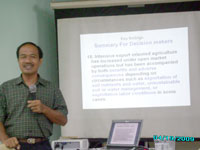 Dr. Chito Medina.
Some Capiceños attended a half-day forum "Agriculture at a Crossroads" about the global report of the International Assessment on Agricultural Science and Technology for Development (IAASTD) at the Central Philippine University (CPU) Education and Media Center. The international report involved 400 scientists and development experts from different countries and disciplines over a four-year intensive process.
The Third World Network (TWN) and Magsasaka at Siyentipiko para sa Pag-unlad ng Agrikultura (MASIPAG) – two leading NGOs with strong presence in the Philippines and whose representatives actively participated in the IAASTD process as Lead Authors for the ESAP (East and South Asia and the Pacific) assessment – are spearheading the outreach activities on the IAASTD Philippines.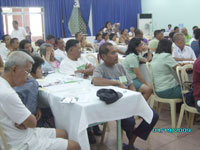 The participants attentively listen to the
forum.
The Philippine government has endorsed the adoption of the IAASTD global report as well as the regional report for the ESAP. The country is well represented in the IAASTD Bureau and the Lead Authors in the global and regional assessments. Playing such important roles in the process, it is imperative that the messages and recommendations of the IAASTD be actively promoted among relevant sectors in the Philippines, hence, the Visayas Forum.
IAASTD aims to: assess Agriculture, Knowledge, Science and Technology (AKST) to reduce hunger and poverty, improve rural livelihoods and facilitate equitable and environmentally, socially, and economically sustainable development.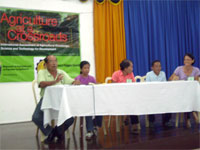 The panel of reactors led by Dr. Calizto
Bacanto of CapSU-Pontevedra, Capiz.
The IAASTD Report is considered as controversial, even radical, for it challenges the "business-as-usual" model that dominates the food and agriculture systems worldwide. The report acknowledges the contribution of AKST in increasing agricultural production, but has benefited the population unevenly and the emphasis on increasing production has seriously contributed to environmental degradation. Among other recommendations in the global report, the IAASTD calls for an increase and strengthening of AKST towards agro-ecological sciences to contributed to addressing environmental issues while maintaining and increasing productivity. It also calls for the redirection of the generation and delivery of AKST to address socio-economic inequities, targeting small-scale agricultural systems, as well as innovative and integrated applications of existing and new AKST and approaches.
In view of the multiple crises facing the world today, the IAASTD findings and recommendations offer a brave approach to address the challenges in AKST. The regional reports offer more region-specific assessment and recommendations that take into account specific conditions in every region.