PURR
A night at SM Cinema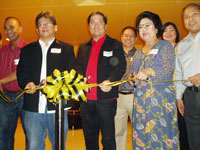 The ribbon cutting with Vice Mayor
Jed Mabilog (middle).
It was quite a night recently when SM Cinema 6 was filled by guests who were invited to the launching of the newly renovated SM Cinema Iloilo. No less than the Senior Vice President of SM Cinema, Edgar Tejero, welcomed everybody to the cocktails, ribbon cutting, program and the viewing of Night at the Museum 2.
While the rest of the guests were already inside viewing the trailers, I was able to gather some interesting information about SM Cinema from Mr. Tejero.
I learned that all SM Cinemas that are seven to 10 years old become candidates for renovation. "We want to create the difference between watching a DVD at home and the theater," Tejero said. Indeed, he's right. Nothing beats watching a movie in the big screen.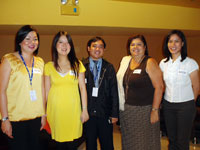 Girlie Libo-on, Kristine Yap, Troy
Camarista, Marichel Magalona and
Maricar Rojas.
The seats are bigger and they are made of fabric. The floors are carpeted. Even the projection system was overhauled.
Tejero noted that after the renovations, SM Iloilo Cinemas experienced a 28 percent growth compared to last year.
Another good news that he shared was the arrival of the digital theater system that Ilonggos will enjoy within the year. They will no longer use the 35-mm film but rather, a movie file that's downloaded from the Internet to their system.
What about Imax? "If we are to consider a timeline, having one in Iloilo is still far-fetched because it requires a different structure," Tejero said. SM North Edsa, Cebu and Fort Bonifacio will be the next home of the Imax.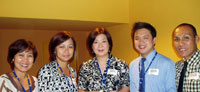 Rizalie Samson, Reina Donesa, Abi
Roxas, Neljun Guion and Jury Gallego.
Buyers from the snack bars are also in for some treats. "Now that SM Cinema runs the snack bars, we will become flexible in giving discounts and freebies through our "Walk the Talk" promotion that will start on July. This means a tie-up with branded food names so they could come up with free movie watching experience for kids. "Just expect some innovations in our marketing campaign," he said.
SM Cinema is not only for movie watching. It is also open for school plays, product launchings, events for review centers, and more. These events can be enjoyed in the 10 AM to 2 PM slot.
SM also has a film library that contains documentaries and history, among others. Students will surely find the time at SM Cinemas a very educational treat, too.
Want to snuggle beside a loved one, much on hotdogs and donuts while watching a great movie on the big screen? Try SM Cinema.