Coffeebreak Metro holds bloodletting activity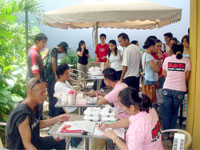 There are many easy reasons why a business remains on the top. Whatever those reasons are, one thing is sure: a successful business gives something back.
Waffle Time Inc. together with Coffeebreak Café, International, and Western Visayas Medical Center Blood Bank Department recently held a bloodletting activity at Coffeebreak-Metro.
To show valuable support, Waffle Time, Coffebreak, Green Mango, and Rice 'n More crews, Nothing but Desserts, as well as GreatFoods Concepts, Inc. (Mojave, Bauhinia, Amalfi) employees took time to support the blood donation activity.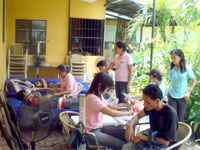 This was the meaningful response of the involved organizations to the blood supply shortage experienced in Western Visayas Medical Center. The activity was part of these companies' serious effort in exercising its social responsibility.
Coffeebreak-Metro was packed because of the blood-letting activity that lasted until early afternoon that same day. Sixty donors eagerly underwent the tests to qualify as blood donors. Medical personnel from the Western Visayas Medical Center facilitated the tests to determine qualified blood donors. Unfortunately, of the sixty willing donors, only 16 people were qualified to be blood donors. Nevertheless, the Western Visayas Medical Center Blood Bank Department very much appreciated the bloodletting activity organized by Waffle Time, Coffeebreak, and Greatfoods Concepts, Inc.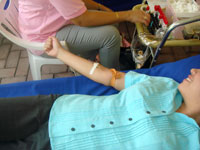 The organizations involved not only wanted to give help in augmenting the blood supply in the hospital, but they wanted to urge more people who are eligible to come forward and, through donating blood, make a meaningful life-saving gift. Social responsibility has become one of the values firmly held by these companies. It has become part of their corporate mission to endeavor on activities that focus on social services and uplifting public welfare and public health. The bloodletting activity is just a start of these companies' effort to earnestly exercise their corporate social mission of promoting social welfare and public health. Indeed, as what these companies believe, the opportunity to serve others is the best fruit that comes with success.