Inner beauty, indeed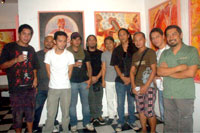 Toto, Gary Custodio, Mark Andy Garcia,
Mitra, Ajiit, Hubo, Cezar Arro, Henry
Cainglet, Jun Tivi and Dada
Deavapreyananda.
Hubo, formerly known as Guijo Dueñas, proved that art by Ilonggos can pass the discriminating eye of the Manila critics.
Hubo held a very successful Inner Beauty exhibit at the Big and Small Art Gallery, at the SM Megamall, Manila. Ilonggos who were in attendance was led by Department of Tourism 6 Director Edwin Trompeta. Also present were Atty. Robert Nomar Leyretana, chief of the Legal Department of the Land Registration Authority Central Office, Col. Jose Molave Duenas of the PNP National Headquarters and Dr. Joel Mendez, owner of the gallery.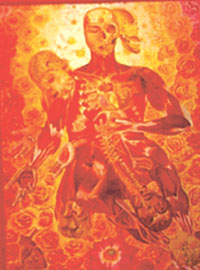 The exhibit.
"The mall goers stopped to look, got mesmerized and entered the exhibit area. Then, people were already flocking the place," Hubo said. Well, it's normal for Hubo's works to elicit shock and awe. After all, it's the first time that such a concept of flesh or inner body parts was presented in an exhibit.
A critic left a comment on the guestbook and it goes like this: "Although the collection is a series of tense movements, suspended temporarily, otherwise in eternity, all seems at peace. There's a sense of contrast, in essence, considering the presence of roses, frailty and delicateness and violence of human anatomy. The artist is able to balance the two, just like yoga."
One critic asked Hubo want he really wanted to show – the tantra (practice of yoga) or the anatomy? He said, "Both, because the tantra is the practice while the anatomy shows the application, exactness of the muscles, bones and the internal organs."
To Hubo, congratulations!