PURR
Bravo for Tinubkan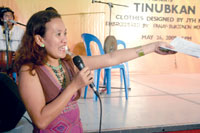 Jhy Ming Gonzales-Duenas, the designer
Tinubkan is one of the most inspiring fashion shows I've ever attended. I could say that the art of the panubok (traditional embroidery of the Panay Bukidnon women), can actually be incorporated in our modern clothing to produce a really wearable and beautiful creation.
What also made the merger of the old and the new exciting was the fact that it was artist Jhy Ming Gonzales-Duenas' first fashion show and her designs were impressive.
Her appeal is simple. Each local government unit should carry the panubok in their uniforms in order for the Panay Bukidnon women to continue with their livelihood.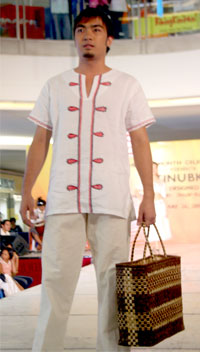 The fashion show was quite a success, as its aim was accomplished.First, the Filipino Heritage and Festival Institute (FHFI) pledged P10,000 for Lola Conchita Gibaliga's cataract treatment. Lola Conchita is one of the elders of the Panay Bukidnon and considered as an expert in the panubok.
Second, the National Commission for Culture and Arts (NCCA) invited them to display the collection at the agency's building as well as put up a cultural show that will help sell the Panay Bukidnon's indigenous products.
Third, Gonzales-Duenas revealed that some private individuals pledged textiles, threads and school supplies for children in the mountains.
"Two prominent political figure in the province of Iloilo pledged two sewing machines. Because of the show we have tapped other non-government organizations to help with the medical mission, eye and dental care. Importantly the office of the NCIP Region VI and VII made a commitment to have their set of uniforms next year made and embroidered by the Panay Bukidnon women," she said.
"Some of the collection were already reserved others were bought. The proceeds will be used for another project such as the revival of musical instruments and travel exhibit. Kultura KUsog Ko. Inc. will be bringing cultural exhibit materials to the four provinces of Central PAnay, in order to gain support and cultural awareness to these provinces. First stop is of course the Iloilo Provincial Capitol. Next is the province of Antique, Boracay, Aklan and Roxas, hopefully," she added.
Gonzales-Duenas is the president of Kultura KUsog Ko. Inc.