Days Hotel Iloilo's exquisite weddings
The hotel has received praises from many wedding enthusiasts in the country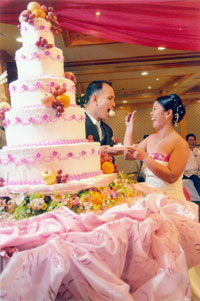 An exquisite wedding at Days Hotel Iloilo.
Weddings are fussily prepared, planned, and conceptualized by couples with much passion and keenness. An exquisite wedding must be classically assembled by a highly skilled wedding planning team with the couple as the center. The beauty of true love is conveyed through stories and experience of a perfect wedding.
Days Hotel has received praises from many wedding enthusiasts in the country.
The hotel's Php 69,000 wedding package promises a "perfect wedding" for couples. The wedding package elegantly presents magnificent choices of international buffet spread and gourmet specials. There's the five-tiered fondant cake, bells with white doves, a guest book, and a bridal car complete with near-perfect floral arrangement and floral centerpieces on the presidential table. Name cards for the presidential table, parquet dance floor, high-tech projector with wide-screen, and wireless microphones shall be provided at the wedding reception. Romantic music shall serenade the newlyweds and their guests. An extended party means only an additional Php 5,000.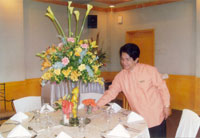 Days Hotel Iloilo's Food and Beverage
Manager, Rey Ponsaran.
The following morning, the newlyweds shall share a hearty breakfast in the Days Hotel's international bistro—The Promenade.
Rey Ponsaran, one of the city's renowned wedding connoisseurs and Days Hotel's food and beverage manager, has two words to express his artistry in every wedding celebration he creates —"exquisitely unforgettable." He added that a perfect and meticulously planned wedding must have simple yet stunning wedding décor — an adventurous concept that fits both the season and the personal taste of the couple.
Planning an exquisite wedding event? Call and inquire now at (033) 337-3297.