Maita's Choice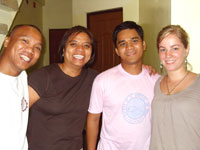 Maita (2nd from left) with Virnor, Junior
and Anna, 2009 CoR Resident Members.
"The call is to touch the life of every person you encounter." – Maita Magalong
Everyday, we make choices. In most cases, we choose what makes us happy and what gives us fulfillment.
For Maria Teresa Ysabelle Gaa Magalong or "Maita", she was presented with a choice between pursuing a lucrative profession and doing what really makes her happy.
Maita came from an average family in Manila. A graduate of BSC Accounting in Assumption (she was schooled there all her life), it was expected that she will pursue a career that is related to her course. Instead, Maita became a volunteer for the Associate Missionaries of the Assumption (AMA). She just wanted to test the waters, so to speak. "I'll give it a year," she told herself. But that one year stint with AMA led her to her a lifetime calling. That of being a volunteer.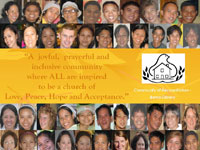 Bo. Obrero's Community of
Reconciliation.
"I tried to unlearn what is traditionally expected of us. Like, you need to have a good job, that you need to earn much and that success means being rich financially," she said.
Thus, at age 21, she became a volunteer English teacher for Grades 5 and 6 in the Assumption Socio-Educational Center in Barrio Obrero, Iloilo. That was in May 1989 to April 1990. She taught grade schoolers and facilitated other activities in the community, considered as an urban poor one, in partnership with the Religious of the Assumption Sisters and lay leaders in the community.
"I was never fond of children. But my work as a teacher taught me how to be patient with them. That struggle gave me one of the most meaningful experiences in my life," Maita said.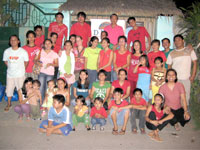 CoR Christmas Party 2008.
Then, she was called back to Manila and became the regional coordinator of AMA for Luzon for three years. She also served as full-time Coordinator for the Center for Social Concern of Assumption College for four years. Afterwhich, she went 'on leave' from Assumption and became a full-time volunteer coordinator for World Youth Day 1995.
She traveled to Chicago in February 1995 and became employed with the Marks Pest Control Company. Her job there was a far cry from what she was used to because it was purely office/clerical work. But, at least she got a good pay.
But the call of volunteerism can't be rid of. She went back to the Philippines in December 1995 and hooked up with Assumption High School, San Lorenzo to put up the Center for Social Involvement and with AMA again as National Coordinator.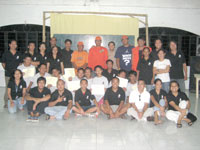 DMCG 3rd Recruitment Training on
November 2008.
Believing that the capacity to help should not be limited to one's community or to poor countries only, and believing that being poor does not only refer to one's financial status (it can be spiritual, too), Maita traveled to England and volunteered in the Hengrave Hall Centre, a retreat and conference center in Suffolk run by a mixed community.
Upon her return to the Philippines one year later in 2001, she became the executive director of AMA until she resigned in August 2006. She coordinated national and regional activities for the volunteers, specifically spiritual and personal formation efforts as well as other tasks.
However, in June 2001, she co-founded the Community of Reconciliation. This mixed, lay community is a welcoming and praying one. It seeks to be a unifying witness to God's love and abundance. They also provide service to the local community through parish or the barangay activities. She co-founded the Disaster Management CoR Group, Inc. which is a community-based NGO whose aim is to save lives particularly in times of disaster composed of volunteers who reside in Barrio Obrero. She is presently the group's president and CEO.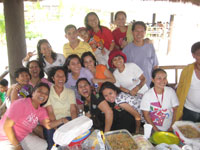 AMA Visayas' Post Valentine Gathering
in Anhawan Resort, February 2009.
Her base now is in Bo. Obrero. She would rather call it her home and her family comprises the residents of the said barangay.
"In my 20 years of volunteerism, one of the things that made it meaningful was the fellowship I shared with my co-volunteers and co-community. We come from different social and economic backgrounds and we realized that we are actually one and the same. Then, I have learned so much from the people of Bo. Obrero. In the simplicity of life there, I found much meaning," Maita added.
Being a volunteer has its challenges. First of all, changing people for the better may seem easy but it's not. Even if people want to change, they too, go a step back again because it's hard to break old habits. But it's a challenge that Maita is patient enough to hurdle.
One unforgettable portion of Maita's life in Bo. Obrero was getting close to a kid named Joseph (not his real name). "He was a Grade 4 student back then. Wherever I go, he goes, too. We're like a tandem... people always expected to see us together. I wanted to adopt him to provide for him a better future, but I was only 21," she said.
Maita visited Barrio Obrero about once or twice a year after her volunteer year. Every time she visits, she saw how Joseph has grown. She also saw how he had become a juvenile delinquent. Then, one day, she heard that he got jailed. When Maita came back to Bo. Obrero, she saw Joseph again, obviously out of jail and had become the barangay's 'siga.'
"But everytime he sees me, he seems like a little boy again. He had this certain respect for me," she said.
Maita still had a strong desire to adopt Joseph and she felt that she was ready. She left for Manila, having that hope in her heart. The next day, she heard that Joseph was stabbed to death.
"I carried that guilt for a long, long time. I had regrets. I realize that if you want to help, it is always urgent. You do it as soon as possible because you don't know what will happen," she said.
A priest friend in her AMA community assisted Maita in extending help to Joseph's friends.
"If you want to help people, it is not always a smooth ride because you have to contend with their backgrounds. But so much have changed in the people in Bo. Obrero. Many have found confidence in themselves. They found dignity which they thought they didn't have," she said.
The work of a volunteer is a thankless job but very meaningful. "It's a joyful job. It's unpredictable. It's a great venue to unite people," she said.
Maita does not see herself as a good person. In fact, she was very notorious/mischievous when since she was a kid. "People call me crazy. But I tried to face all the challenges to initiate a personal transformation."
"I admit, there are times when I feel insecure especially now with my age and the aspect about financial security. But I feel that I am in the right place. Nothing can match the fulfillment of seeing the little things that you do make a difference in the lives of people you encounter. I owe much of these to my family and my school who have helped me define love, acceptance and service by giving me good experiences of these earlier in my life. I have much to be grateful for and definitely have no regrets" she concludes.