SM City Iloilo holds Green Retail Agenda seminar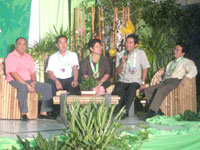 The SM City Iloilo mall management held the Green Retail Agenda seminar last May 29, 2009, 1 to 4 PM at the Lower Ground Floor unleased area.
The resourse speakers were Arch. Paul Mosquera of the Philippine Institute of Architechs who explained what Green Architechture means. Albert Uygongco shared Philippine Foremost Milling Corporation's ways of utilizing recyclable materials from their products, Engr. Vergel Dyoco of Pacific Paints (Boysen) Phil. shared their new environment-friendly product and Dr. Alicia Lustica, Regional Technical Director for Research. Mayor Isabelo Maquino of Sta. Barbara Iloilo enthusiatically imparted to the participants his municipality's program on environment which earned various national awards.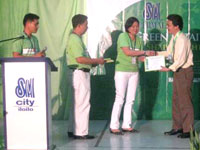 Meanwhile, SM City Iloilo Mall Manager Girlie Panes-Liboon shared SM's environmental programs and welcomed everyone to the activity. Arch. Fides Garcia,SM's Vice-President for Design, sent her message to the participants and guests through SM City Iloilo EDD Officer Arch Ma. Theresa Prencisa. Engr. Gilbert Domingo, Asst. Mall Manager, thanked the speakers for their support and partnership in the noble activity.
The activity aimed at making aware the participants of the best practices of the different sectors who shared what their respective companies and localities do to lessen the impacts of their products and services.