PURR
There's Gelato at Coffee Break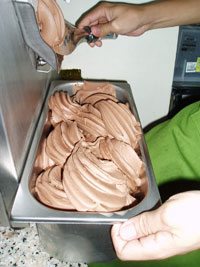 Yummy!
A visit to selected branches of Coffee Break is becoming more exciting because they are offering a wide variety of fruit-based and chocolate-based gelato.
Gelato is the Italian variant of ice cream, but it is denser because it has 55 percent air, one of the main ingredients, apart from milk and cream, sugar and flavorings from fruits, nuts or essences. Thus, it's creamier and more flavorful.
If you love eating Barnuts, you'll enjoy Coffee Break's Choc-nut Gelato because of its cold and creamy perfection.
Avocado that's ripened just right was used in the Avocado Gelato. Nangka Gelato, with jackfruit (langka in Ilonggo) as its base, is light to the taste and refreshing. Green Mango is its usual sour taste but made creamier and cool to the tongue.
Chocolate Español reminds me of the native chocolate we used to enjoy when we were kids. The taste of dark chocolate mixed with cream is a delight you must try. Add to that is the relaxation and calm that chocolate brings.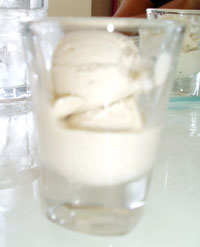 Banana
Banana Gelato is a must-try. It's flavorful apart from the fact that it's rich in potassium because real bananas were used for this product.
Pink Guava is quite interesting as it is my first experience of such taste for a gelato. One can detect the subtle taste of guava, considered as a storehouse of nutrients.
Guyabano Gelato and Durian Gelato are quite interesting too. The former is quite refreshing while the creaminess and aroma of durian are very evident in the latter. I have a love-hate relationship with durian but Coffee Break's durian gelato delighted my taste buds.
One perfect treat especially in this hot and humid weather of ours is the Calamansi Gelato. "Refreshing on a hot day," Ms. Marichel Magalona, our managing director commented, obviously very pleased with what she's having.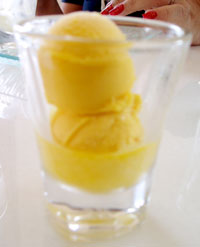 Nangka.
Coffee Break prepares their own gelato and the ingredients are fresh fruits and essences. And no, it does not contain gelatin, contrary to misconceptions. Thus, vegetarians will find Coffee Break's gelato quite acceptable and enjoyable.
The gelato is available in cone or cup and has been available since May 26 in Coffee Break Valeria, Robinsons, General Luna and Atrium branches.
Coffee Break has 14 branches in the city and offers a wide varieties of coffee, shakes, tea, cakes and sandwiches.