SM City holds Recipe ni Mama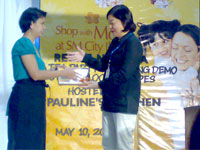 Ma. Theresa Enriquez Gaspar receives
her certificate of participation.
Bringing the nostalgic moments of cooking moms, SM City holds Recipe ni Mama, a tea party and cooking demo of heirloom recipes, last Mother's Day, at SM City activity center.
Hosted by Pauline Banusing of Pauline's Kitchen, the cooking demo featured the favorite dish of some personalities that they learned from their mom.
Ma. Theresa Enriquez Gaspar for instance, demonstrated the favorite breakfast food of their family which is Talong de Manila. Born from Nueva Ecija, Theresa shared that her mom taught her this dish since it is cheap and easy to prepare.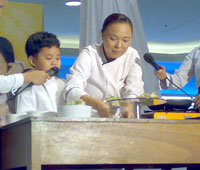 Mrs. Pauline Banusing with son Justin
during their cooking demo of Pizzetas
de Molo.
Having the taste for American flavors, Claudette French Salcedo shared her American Beef Pot Roast recipe. Claudette mentioned that this recipe came from her grandmother and is usually prepared during family occasions like Christmas and family reunion. She added that even though the recipe has many variations now, the basic of cooking is the same. As for Claudette, she added mushroom and cream of mushroom to give a new flavor to the dish.
Vice Mayor Jed Mabilog shared their family's own version of Callos Madrilena. He said that he had nine siblings, thus mom always prepares a dish that is good for more than 10 servings.
Couple Drs. Emiliano "Totoy" Bernardo and Grendel "Jen-Jen" Ganzon-Bernardo shared their Beef Tips with Broccoli and Oyster Sauce. The couple said that they have a hard time in naming the dish so they decided to give a descriptive title to it.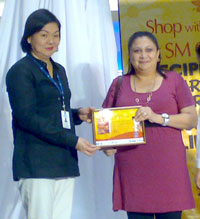 Claudette French-Salcedo receives her
cetificate of participation for her
cooking demo.
Bringing the real mother and kid tandem in the kitchen, Pauline Banusing and son Justin demonstrated their Pizzetas de Molo recipe. Pauline shared that Justin usually helps her in the kitchen and when they prepare Pizzetas de Molo at home, Justin and her sister Nadine are the ones who assemble the dish.
The cooking demo was capped by a tea party wherein the audience was able to taste the recipes prepared.
Cooking is indeed one of the numerous ways how moms show their love and care to their kids. It is something that their children value and remembered.