PURR
The Philippine Arts Awards 2009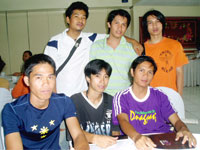 Seated - Melkie Villalobos, Alex Ordoyo
& Mars Capanang. Standing - John Rey
Salavante, Seigred Prado & Joemel
Mirabuena.
Local artists are ecstatic about the Philippine Art Awards 2009 regional competition right after it was launched last May 11, 2009. After all, the PAA has established itself as the most prestigious and most-awaited art event and competition in the country. Winning in this has an enormous positive impact on one's reputation and worth as an artist.
Held bi-annually, the regional competition is divided into four --- the Luzon Art Awards, Visayas Art Awards, Metro Manila Art Awards and Mindanao Art Awards. Ten artists will be chosen from every region, making the total number of artists to 40. They will compete in the national competition on 2010 wherein eight winners will be selected.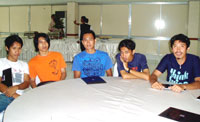 Leoniel Carbas, Marz Capanang, Arthur
Jusa, Jr., Edmar Colmo and Melvin
Guirhem.
Each regional winner will receive P40,000. The national winner will receive P350,000 and a trip to Shanghai, China. There will be five Juror's Choice awardees for Excellence and two for Merit. Each will receive P120,000.
In the 2007 regional search, three Ilonggos won. They were Cezar Arro, Guijo Duenas (now called as Hubo) and Jyh Ming Gonzales.
This is an event by Philip Morris in partnership with the National Museum of the Philippines, Asian Tigers Lane Moving and Storage.
At the launching, not only were the new rules and regulations were discussed, but Dr. Patrick Flores, an art expert, had a short lecture on contemporary art.
For more information on the competition, visit www.philippineartawards.org or e-mail to ask@philippineartawards.or or call (02) 8879550.