TWILIGHTS
At the wedding of Matt and Cawi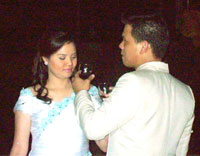 Caroline toasts Matt to a journey of a
happy life forever.
Hundreds of friends and relatives of the Montalbo and Ang family gathered at the granny garden of THE RUINS gathered to witness the wedding rites by Pastor Joe T. Ascalon binding together Jester Mat Montalbo and Caroline "Cawi" Ang.
Parents Boy and Marilou Montalbo prepared a grand wedding for Mat and Cawi as Boy and Marilou also celebrated their wedding anniversary. Well organized by the wedding planner, the ceremony was held there followed by the grand wedding reception catered by the favorite Basco Catering. Caroline's parents, Daniel and Julieta were equally happy to have Matt Jester as husband of their pretty Cawi.
Seen around the gardens were East View Hotel owner Johnny Yap, RCBC banker Francis Ramos, contractor Celso Uy, businessman Harry Yap, DOTC Director Cano Tan and wife Nita, Architect and Mrs. Victor Costales and Pagcor's Mon Gochuico.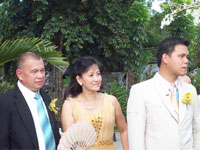 Parents Boy and Marilou Montalbo with
groom Matt Jester waiting for the bride,
Caroline.
In another area, we noticed businessman Johnny Ku, taxi operator Ramy Jalandoon, Diotay and Virgie Lopue, William and Chole Chua, Ed Alunan and Erlinda Javellana-Regalado with charming daughter Jolin.
The heavens cooperated as no rain fell that day and it was the graces above that made the affair successful. Boy Montalbo announced there was too much coffee available to let everyone stay till midnight. And yes, many did stay. Congrats to Mat and Cawi! Happy Anniversary to Boy and Marilou, as well!