PURR
In search for the Ilonggo 'pamahaw'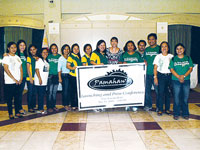 The staff of the City Tourism
Development Office.
Media practitioners, academicians, the officers and staff from the City Tourism Development Office (CTDO) and other guests were treated to a lecture on food and a mouth-watering experience during the launching of "Pamahaw," the search for the Ilonggo breakfast. The activity, highlighted by a signing of the Memorandum of Agreement, was held at Four-Season Hotel.
The activity was headed by Ben Jimena, City Tourism officer, who was responsible for the idea that we should come up with a truly Ilonggo breakfast that will become a regular fare in hotels, resorts and restaurants.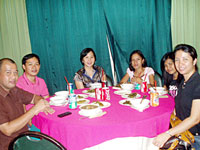 Nerio Lujan, Jay Presaldo, Perla Lena,
glenda sologastia, Joyce Marie Sarhento
and Lucy Montealto.
To the students and professionals who want to introduce what an Ilonggo breakfast should be, join the competition. The deadline of entries is on June 30. The screening will be held on July 1 to 11 and the finalists will be announced on July 12. The contest proper will be on July 25.For more details, visit the CTDO at Robinsons Place Iloilo.