PINK PEPPER
Body and Sole's thanksgiving bash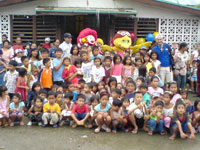 Arman and the kids with McDonald's
mascots.
Body and Sole Spa never fails to give thanks for the blessings it has reaped since the business prospered in 2005.
This year, Arman Regalado, owner of Body and Sole Spa made sure that 50 kids had a fun-filled time at the basketball court of Habog-habog by providing the venue with party balloons and the children with toys, chocolates and candies. Then there were snacks of burger and spaghetti.
Tito Clown initiated the games as well as showed some magic tricks. McDonald's mascots enthralled everyone with superb dance moves.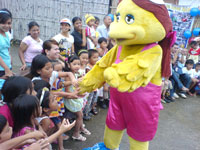 Let me hold your hand!
Pink Pepper learned that it was a double celebration, being the birthday of Arman's mother, Mommy Paulina.
Arman grew up in this village. The basketball court used to be his playground, and a place that holds many memories. Even if he no longer lives there, he continues to visit his family and friends.