Warning is out against the outbreak of dengue fever in Iloilo City while similar precaution had been called by health authorities with regard to the possible entry of A(H1N1) virus which has already two confirmed cases in the country.
A supplier of medical equipment dubbed as irregular the awarding of contract to supply one unit Autoclave machine to Gerden Pharma Lab and Co. Inc. by the Bids and Awards Committee (BAC) of the Iloilo Provincial Government.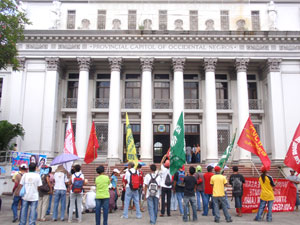 JOHN JAVIER
"I care. Do you?"
Persons living with HIV/AIDS and those who have succumbed to the said infection, will be commemorated in the 26th International AIDS Candlelight Memorial on May 28, 4:30 to 6 PM at the Iloilo Freedom Grandstand.