Philippine officials and representatives from the Korean government will be inaugurating today a multi-million project on early flood warning system.
According to a statement from the Capitol's information office, Sec. Estrella Alabastro of the Department of Science and Technology, Gov. Niel Tupas,.
BACOLOD CITY -- President Gloria Macapagal-Arroyo who was guest of honor at the Best Public Practices Award 2009 of the Regional Development Council (RDC) yesterday called for unity and cooperation of every sector for the country to reach its goals.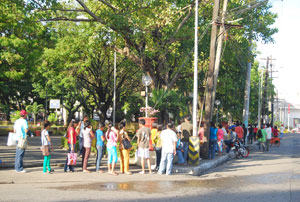 A.CHRIS FERNANDEZ
A new army battalion will be formed in Western Visayas before the year ends. This was learned from newly appointed Armed Forces of the Philippines chief of staff Lt. Gen. Victor Ibrado who visited the 3rd Infantry Division (3ID) headquarters at Camp Peralta in Jamindan, Capiz recently.
Key figures on the now infamous Power Supply Agreement (PSA) of one Iloilo electric cooperative will face off Tuesday in Sara, Iloilo.