Queen Jhesa of Zarraga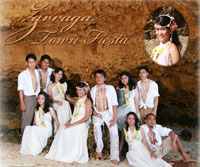 The royal entourage.
The Municipality of Zarraga will have a new face to carry the town's prestigious Fiesta Queen 2009 crown. And the lucky girl is no other than the sweet and charming Jhesa Dorleen Mae Tayong.
She is the youngest among the children of Mr. Rodrigo Capioso Tayong and Mrs. Nelida Lacsi Tayong.
Jhesa Dorleen is only sixteen years old and an incoming fourth year student at Central Philippine University. She is also an athletic type of girl and is a member of the university's swimming varsity. Recently, she represented the Western Visayas in the Palarong Pambansa held in Tacloban City.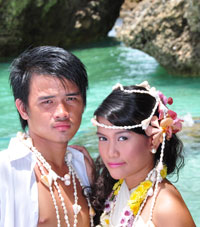 Fiesta 2009 Queen and King Jhesa
Dorleen Mae Tayong and Kriston
Roy Barrido.
Aside from being sporty, Jhesa has also interests in music. She says she knows how to sing a tune and play a guitar, beaming Taylor Swift and the rock band Paramore as her favorite artists. Moreover, she even reveals to have passion in reading and writing literary works. Photoshop is her special hobby.
Jhesah, together with her King, Kriston Roy Barrido, will march the royal entourage on the Coronation Night on May 15, 8 pm at Zarraga's Plaza Covered Gym along with their princesses and princes Mary Lys Mandar and Albert Matthew Alor, Kathrine Patoc and Roger Pumaren, Angela Prodigo and Mark Louis Subong, and Megan Marie Subong and Master Saint Provido.
Jhesa will wear the gowns made by designer Enrique "Erick" Sua-an. The creations were based on the Hawaiian and Beach Romance theme.
This yearly event is organized spearheaded by the Associations of Brgy. Captains (ABC) of Zarraga to select the next queen to be Zarraga's Ambassadress of Goodwill.