Theotokos Prayer Mission: Continuing the Legacy of the 'God Bearer'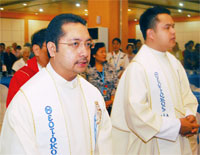 Fr. Rolly Briones, over-all director
(middle) with other priests.
Reinforcing the relationship of human and God through being God's bearer is one of the most splendid and blessed gift Mary had received. Living with this legacy, Theotokos Prayer Mission was put into life.
Theotokos Prayer Mission is a prayer group that commits themselves to God and to the Blessed Mother of God for a lifetime prayer for priests and religious.
After 11 years of existence as a prayer group in Holy Mother Church, Theotokos Prayer Mission (TPM) held its first National convention at Iloilo Grand Hotel on April 24 to 26.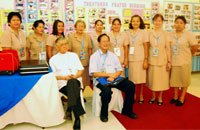 The Mill Hill Missionaries with Most
Rev. Angel Lagdameo (seated, left).
TPM deepened man's understanding of a god bearer and will answer the question on why man should pray for priests and the religious.
"Generally, Theotokos means God bearer. Nagmula 'yon sa salitang theo which means god at kotos which means bearer. That refers to the mother of god which is Mary. Kami as members of this group set mother Mary as our inspiration and our model. We too, bear god spiritually just as mother Mary bears Jesus," Fr. Rolando Briones, over all director of the convention and one of the founder, explained.This three-day event was attended by different participants all over the country.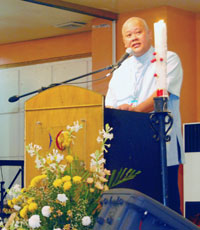 Very Rev. Msgr. Ramon Masculino, Jr.
Mass supervisors and speakers of the said convention are: His Eminence Gaudencio B. Cardinal Rosales, D.D., Archibishop of Manila; His Eminence Ricardo F. Cardinal Vidal, D.D., Archbishop of Cebu; His excelency Most Rev. Angel N. Lagdameo, D.D., Archbishop of Jaro and President of the catholic Bishop Conference of the Philippines; His Excellency Most Rev. Pablo Virgilio S. David, D.D., Parish Priest of the Holy Rosary Parish in Angeles Pampanga; His Excellency most Rev. Teodoro C. Bacani, D.D., Bishop Emiritus Novaliches, and; Rev. Fr. Cesar Acuin, OFMCap., Provincial Minister of the Capuchins in the Philippines.
With John 19; 26-27, "Woman behold your son…Behold your mother," as the focus of the convention, Theotokos Prayer Mission was a success.
Theotokos is one of a kind organization bearing common goals and purposes, specifically, to continue the Legacy of the God bearer.