TWILIGHTS
Hinigaran festival wows tourists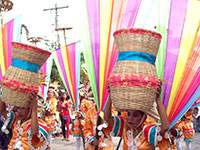 Colorful baskets and banners on the
road.
Hinigaran, one of the more progressive towns of Negros Occidental, recently celebrated their town festival with the traditional parade and tribe competition.
Visitors from all over the province and nearby islands of the region came to witness the festivities of Hinigaran as Mayor Aguilar welcomed his guests. Famous for oysters (talaba), residents of the town had their own parties in their homes with relatives and friends attending.
The festival queen beauty pageant was one of the main highlights of the festivity. MMDA Chairman Bayani Fernando was invited by the town officials to crown the queen of the festival.
It was a very successful event with rain showers sparing the main events and the parade and tribe competition. Hinigaran town is an hour drive to the south of Bacolod City.