Liwayway Bernardo: Oton's new queen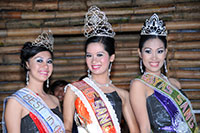 1st Runner-up Rona Mae Lamsen, Hiyas
sang Katagman 2009 Liwayway Bernardo
and 2nd Runner-up Joie Mae Ysulat.
A new queen bearing the title Hiyas sang Katagman 2009, in line with the 437th Foundation Day of the Municipality of Oton, emerged on the drizzling April 27 night at the town's Amphitheater Green in the person of Liwayway Arellano Bernardo.
The 18-year old beauty of Claro M. Recto St., Oton is a senior B.S Cooperative Management student of WVSU. She is the eldest and only daughter of Roman Pampliega Bernardo and Mary Ann Arellano Bernardo.
Bernardo bested other eight candidates making it to the final top three and eventually was hailed as the second Hiyas Sang Katagman. First and second runners-up went to Rona Mae Lamsen of Paterno St., Oton and Joie Mae Ysulat of Florvel Subdivision, Buray, Oton, respectively.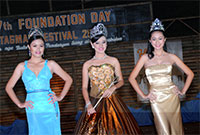 Farewell walk of 2008 Hiyas queens.
Aside from the prestigious tiara, Bernardo also bagged the Best in Cultural Costume and Ms. Sunsilk awards. Ms. Lamsen got the Best in Playsuit, Best in Gown, Ms. Ponds, and Nang Palang's Special Award.
Ysulat got the Best in Interview.
Liwayway Bernardo or 'Liway' to her friends officially became Oton's Ambassadress of Goodwill. She is expected to exemplify the Ogtonganon beauty and character, and to act as role model of the youth. She will also represent the town in provincial and national beauty contests.