PURR
Let the children shine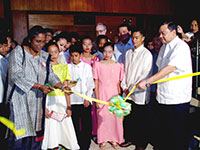 The ribbon cutting with the children
writers, Mayor Jerry Trenas and Latha
Caleb.
Children shine when you give them opportunities for growth. One such avenue is honing their craft in writing and drawing. And when you encourage and support them to come out with their own books, so much the better. This gives them confidence about themselves for they know that their wealth is within.
Such was the case during the launching of the For Children, By Children, a book that contains stories and illustrations of students from Western Visayas.
Latha Caleb, country director of Save The Children, said that it was a special day for all children and the staff of the Western Visayas program. It was a celebration of creativity and hard work that the organization has achieved in the Philippines. She encouraged the children to write more, thereby leading other kids to read more and learn about social responsibility through these literatures.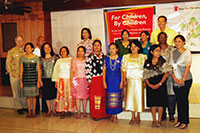 Save The Children officers and WV staff.
Glen Genovate, WV program manager of Save the Children, told those present to engage children in issues that affect them in schools and their community. These issues are on population, health and environment.
Indeed, ignorance leads to a miserable world. Thus, the earlier children learn about family planning, sickness prevention and caring for their surroundings, the better it is for them and for the world they live in.