Fiestas in the City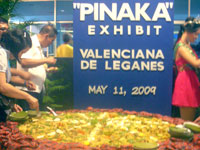 PINAKA-NAMIT! Valenciana de Leganes.
A showcase of different municipalities' festivals and products, the annual much anticipated tourism showdown Fiestas in the City officially kicked-off recently at the SM City with the town of Leganes striking the keynote on the opening day of the two-week celebration. This year's dubbing, "A gathering of people, festivals and products of Western Visayas".
The cutting of ceremonial ribbon at the grand launching was led by Leganes Mayor Hon. Adolfo E. Jaen, Department of Tourism (DOT-VI) representative Atty. Helen Camarista, Mall Brand Manager-SMCI Ms. Kristine Joyce Yap, and Miss Saad Festival 2009 Marigold Pacete.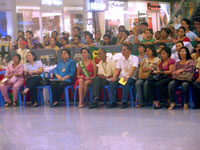 DOT representatives, SM officials,
Saad Queen, and Officials of Leganes.
The Municipality of Leganes started the festive mood with performance from its Hubon MIsteryoso, the group composed of Leganes Elementary School kids who won this year's Saad Festival. 'Saad , the town's renowned festival was also the champion during the Kasadyahan 2008 and Runner Up in 2009. It competed during last Aliwan Festival considered to be the grandest festival in the whole nation.
Leganes prides their Saad Festival which reached its fifth year of good performance just last month and boasts it as the beautiful product of the harmonious relationship among the people in their town.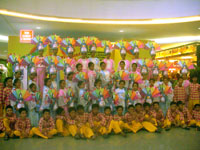 Leganes Elementary School's Hubon
Misteryoso.
Aside from the and vibrant cultural and religious presentations to the audience gathered at the SM Ground Floor, the host town also shared their Pinaka-Namit Valenciana de Leganes. The 1.5 meter diameter plate of sumptuous valenciana was overwhelmingly lined up by the crowds to get a taste.
That was just the exciting day-one installment from a series of towns that will showcase their events and products which will run until May 23.
Aside from Saad Festival of Leganes, Fiestas in the City will also feature various festival presentations until May 15 every 4 PM. Sagala of Festival Queens will be staged on May 17, 4 PM; Festival Cooking Shows featuring our favorite Ilonggo dishes on May 20-21, 1-5 PM; 2009 Ginang Alaska May 22-23, 4 PM.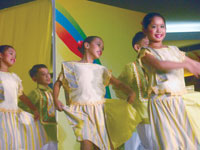 Leganes' kids on folkdance.
All throughout the celebration, there will also be Exhibits of actual gowns worn by some Iloilo's prominent fiesta queens, photo exhibit of different Festivals in Region VI by the Iloilo Photographic Society, a presentation of Hupa, an internationally acclaimed short film of Oscar Nava IV, exhibit of Region VI's popular landmarks and festivals, Trade Fair showcasing various Ilonggo delicacies, and Festival Props and Costumes which is a showcase of props and costumes distinct to some Iloilo's towns and municipalities.
The event is on a mission to provide a common venue for the different towns to showcase what their festivals has to offer. Everyone is invited to witness this once-in-a-year gathering of the different towns' celebrations.