Barangay captains in Iloilo City have asked for an extension of time within which they could comply with the provision of the Ecological Solid Waste Management Act of 2000 on waste segregation.
Police forces from the Regional Mobile Group (RMG) were called in yesterday to augment security inside the Regional Internal Affairs Service (RIAS) office at Camp Delgado.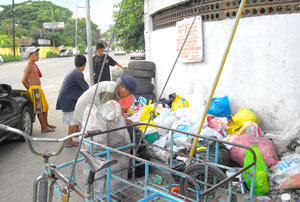 A.CHRIS FERNANDEZ
BACOLOD CITY -- President Gloria Macapagal Arroyo arrives here today to grace the awarding rites of Regional Development Council's (RDC) Best Public Sector Projects Award to be held at New Government Center. Mayor Evelio Leonardia and Governor Isidro Zayco said everything is set for the arrival of the president especially in terms of security measures.