Meeting Priscilla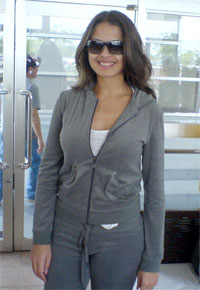 Priscilla Meirelles inside the ICVB
lounge at Iloilo airport.
I was very fortunate to meet a Brazilian beauty, Priscilla Meirelles, Miss Earth 2004, at the Iloilo City Visitors Bureau (ICVB) Lounge of the Iloilo airport.
She was wearing a white tank top and a gray jacket. Even without makeup, she's beautiful.
From our conversation, I have learned that after winning the Miss Earth title, several opportunities opened for her. She became a cover girl for magazines, had several hosting jobs and a modeling career.
She was born in Manaus, Brazil on Sept. 5, 1983. She has a stunning figure, with 35-24-35 inches to boast of. Then, there's the towering height of five feet and 10 inches.
She became the first Brazilian to win the Miss Earth title. She also won the Best in National Costume award on the said pageant.
She said that competing against other beautiful ladies from around the world was not easy.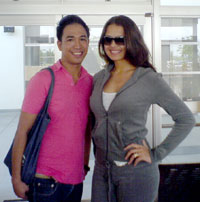 The writer with Priscilla Meirelles.
Before joining the pageant, she was a medical student. "When I was a young girl, I always had high grades in school. I have a very adventurous spirit, a very free mind and very friendly, like Filipinos. I love to try new things. I also love to travel," she said.
Being a beauty queen, a model and a television personality, she wants to look fit and beautiful always. Thus, she goes to the gym and eats a balanced diet.
She was among the judges during the Miss Manggahan pageant held in Guimaras recently. Every year, the organizer brings a beauty queen to the province, among them, Priscilla and Gloria Diaz.
She said that she's never heard of Guimaras before. Thus, when she was invited to be one of the judges in the contest, she said yes and was really excited.
"Many people told me that it's a beautiful place. Something like Boracay. My expectation is very high because the Philippines has many beautiful islands," the 25-year-old beauty added.
She considers the Philippines as her extension country. She sees that Filipinos have a positive disposition and always smile. "The Filipinos welcome you no matter who you are, what color you are and were you came from. They make you comfortable," she said.
She wants to be fluent in Tagalog. "I learned a few but not enough. I want to develop a career in this country."