PURR
Garden of the Ascension turns 9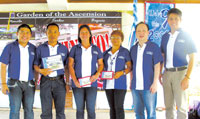 Top Agency Managers.
Garden of the Ascension turned nine years old this year and celebrated it with a fun-filled party last April 4, 2009 at the Multi-Purpose Pavilion of the said memorial park in Jibao-an, Pavia, Iloilo
President Francisco T. Alba, Jr. and Prudentialife Department Head Jayson Ayson went to Iloilo to participate and bring good news. Mr. Alba told those present of the ongoing and future developments that Garden of the Ascension is going through. For Ayson, it was learned that it was his first time to be in Iloilo City.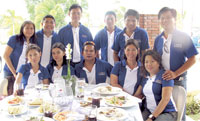 Agency Managers, Park Consultants, &
Office Staff.
There were heavy rains but it did not hamper the fun mood of those present. The affair started with a motorcade, followed by a thanksgiving mass celebrated by Rev. Fr. Salty dela Rama. Then, the program started with dance and song presentations. There was also the launching of the Trip Natin 'To promo, that gives a chance to sales agents to travel to Manila, Tarlac and Baguio. The qualifiers for "Bagong Kaibigan" were also awarded their incentives.
Garden of the Ascension is a 17-hectare memorial park. It has unique and highly innovative features that are tailored-fit to meet the demands and needs of the modern society without jeopardizing practices and traditions. Garden of the Ascension is equipped with state-of-the-art facilities to pair their panoramic landscape and carefully-designed gazebos that allows the bereaved families to enjoy the company of their departed loved ones while they commune with nature.