Easter at The Avenue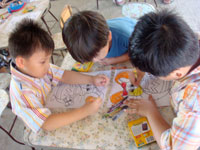 The Avenue was filled with families that were eager to celebrate Easter with good food and fun-filled activities last April 12, 2009.
There were games and prizes for the children who joined the Easter celebration.
Who wouldn't be excited to be at The Avenue? It houses all the restaurants that cater to your favorite food – Bauhinia Filipino Cuisine, Amalfi (for Italian fare), Mojave Steak and Grill, Nothing But Desserts and Coffee Break. Whatever your choice is, each place is perfect for an Easter get-together or for any other occasion for that matter.