Inside Rafael M. Salas' Library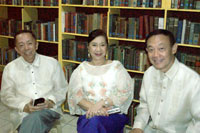 Consul and Mrs. Ngo with Jose Mari
Chan.
Last March 9, the Negros Museum was all dressed up to welcome a "special guest". A stage was set with the grand piano in the center, flowers were blooming all over the museum lobby, food was set on one corner, and those who attended donned their best Filipiniana attire for the occasion. Jose Mari Chan and Lyn B. Gamboa, chairman and president, respectively, of the Negros Cultural Foundation, were huddled together doing last-minute arrangements, while the crowd waited for the ceremony to begin. Finally, it was time to honor the guest, as the doors opened to welcome the hundreds of books belonging to the library of Rafael M. Salas. Flown in from his private library in the United States, the books have finally come home to a place where the Undersecretary General of the United Nations Fund considers his home. Here, at the Negros Museum, the books will be on display for everyone to see, giving us a glimpse of his work, achievements, people he has worked with, and maybe a snippet of his personal life.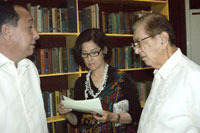 Leonard Matti, Amb. Carmelita R. Salas
and Atty. Arsenio Yulo.
Born in Bago City, Negros Occidental, Rafael "Paeng" Montinola Salas is one of three children of Ernesto Araneta Salas and Isabel Neri Montinola. A Magna cum Laude graduate of the University of the Philippines' College of Law, he also completed his MPA degree at the Harvard University. After serving as Executive Secretary to then President Ferdinand E. Marcos, he became the first Executive Director of the United Nations Fund for Population Activities in 1969, a position he would maintain until that fatal day of his heart attack in 1987.
Atty. Rodolfo A. Gamboa led the ceremonies of this welcome party, while Jose Mari Chan gave his welcome remarks, and Lyn B. Gamboa gave us a short history on the life of Rafael M. Salas. Selections from haiku he has written were also read and performed by The Performance Laboratory. To formally open the literary collection, his wife, Ambassador Carmelita R. Salas, together with Atty. Arsenio Yulo, President of the Rafael M. Salas Foundation, sounded the gongs to mark the exhibit's opening.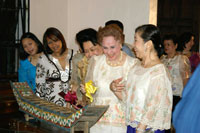 Gilda Puey tries out the gong before
entering the exhibit.
Enjoying the collection were the ever-elegant Marina Silos and Aida Marañon, wife of Negros Occidental's former governor, Joseph Marañon. Bago City Vice Mayor Nicholas Yulo was there together with Felice Yulo Teodoro, Fr. Bernard Ybiernas, Bob and Cristina Montelibano, and Leonard and Jack Matti.
The books have come home for good, and it is only fitting that they be welcomed in this manner. And for those who weren't there that evening, you can view the collection at the Negros Museum, and get to know one of Negros' famous and distinguished diplomats.