PINK PEPPER
A dream come true for 50 couples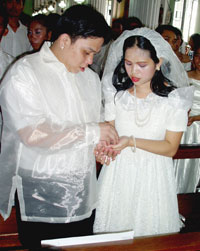 There were 50 couples who said their "I do's" in the My Dream Wedding project of Councilor Julienne Baronda.
Their church wedding was solemnized by Rev. Achilles Secio at the San Jose Parish Church. After the wedding, they were brought by trisikads to Robinsons Place Iloilo for the reception.
Baronda said that the project was an opportunity for poor couples to have their union blessed by God through a church wedding. She said that it is in line with the government's responsibility towards the moral and spiritual foundations of a family.