Binirayan 2009 Opening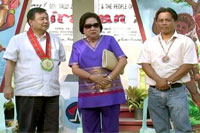 Kruuuhaay!Binirayan 2009 formally opened together with the foundation day celebration of the province of Antique last Monday April 13 at 4PM at the Malandog Historical Marker and at the EBJ Freedom Park.
Iloilo City Mayor Jerry P. Trenas graced the said event together with his children. The activity was participated by the Provincial government headed by Antique Governor Salvacion Z. Perez, Vice Governor Rhodora Cadiao, Mayor Julius Pacificador of Hamtic, Mayor Asser Baladjay of Laua-an, heads of offices of the province, barangay officials of Malandog, the candidates of Mr. Antique and the Lin-ay of Antique candidates.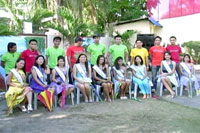 Trenas, whose mother is from the town of Bugasong, said that it has been a long time since he was in Antique and it's the right time to visit the place. He said that Antique is more developed and is on its way to progress.
There was also a presentation of Ritual Offerings and Street dancing.
Binirayan Festival is dedicated to Antiquenos coming together celebrating as one family.
This year's theme is: "Antiqueño, time to go global!"