Iloilo Sacred Heart School's culminating activity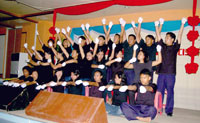 Doxology.
The Iloilo Sacred Heart School held its culmination activity at the Grand Hotel recently. Parents and guardians just couldn't help but take pictures and be awed at the sight of their graduates go up on stage to perform some musical numbers as well as receive their awards and diplomas.
Wilhelma Gabuan, the Department of Education district supervisor for La Paz, was the guest speaker. She inspired the students about moving forward and becoming individuals that could help society.
Of course, present was Zenaida Sabellano, school directress; Lani Galindo, General PTA vice president and Myrna Auditor, principal of the Elementary Department.
Iloilo Sacred Heart School is located at 3rd Street, Lawaan Village, Jaro, Iloilo City. It's already in its 10th year of operations. The recent culminating activity was one of its celebrations of excellence.