PURR
Double summer fun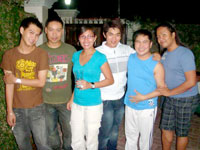 Novi, Rexel Sorza, Joan Jalandoni,
Mama Monyeka, Ronald Lulu and
Harry Canilao.
It was the Feast of St. Joseph at Barangay Balantang last March. As their yearly tradition, Ronald Lulu and his family had prepared a feast. Families and friends trooped to their cozy residence to enjoy a sumptuous buffet, cocktails and good conversations with each other. Trust Ronald to always come up with an enjoyable activity whenever there's a special occasion. Such the perfect host.
And although it was a Holy Thursday last April 9, the Lulu and Villalon families and their friends trooped to Jaen Beach Resort in Leganes to celebrate the birthday of Gemma Villalon, my fun-to-be-with sister-in-law. Mom Rose treated everyone with her adobo, bijon, pata and more. My partner Glen, arrived just in time to treat us with his jokes and jolly company. When it's almost dusk, everybody transferred to the Villalon residence for more cocktails and as usual, good conversations.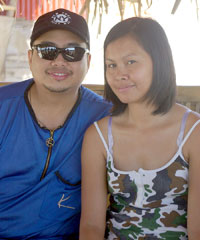 The celebrator and her better half, Bong.
To end, here are some quotes from famous people:
People can be more forgiving than you can imagine. But you have to forgive yourself. Let go of what's bitter and move on. - Bill Cosby
Sometimes we get caught up in our troubles and our problems and we let life slip away, but life is precious, all of life, and one must try to take in as much of it as possible. - Yanni