Twilight
Althea Grace is four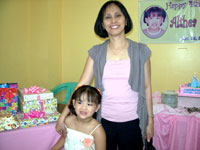 Althea Grace insists to have a picture
with Mom Del.
Friends, relatives and closer people to the hearts of Althea Grace Agraviador and her Dad George and Mom Judge Del Agraviador gathered one afternoon to celebrate Althea's 4th birthday party fun.
Friends of George and Del were there as well as the proud parents were just too glad to treat Althea a clown entertainment with lots of sorbets and great food with party games.
Kids were happy when they played on the different games prepared by George and Del to make sure it was an afternoon worth remembering for the lovely Althea.