Collection of illegal 'pass-through' fees on delivery trucks ordered stopped
In order to avoid the illegal collection and imposition of taxes, fees or charges by local government units (LGUs), the Department of the Interior and Local Government (DILG) recently issued guidelines on the scope and coverage of taxing powers of LGUs in accordance with the provisions of the Local Government Code.
Rebuffing the defense that a police officer planted the illegal drugs recovered, an anti-drugs court here sentenced a man to life imprisonment for possessing 13.35 grams of methamphetamine hydrochloride. Judge Evelyn Salao, presiding judge of Regional Trial Court branch 25, also ordered Yul Paulino.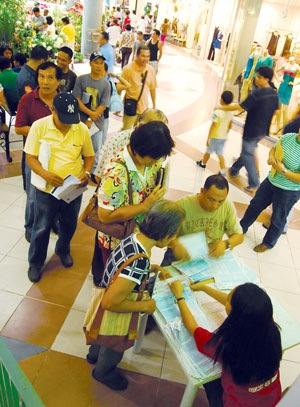 A.CHRIS FERNANDEZ
BACOLOD CITY -- Negrense Lt. Gen. Victor Ibrado, commanding general of the Philippine Army has been named by President Gloria Macapagal-Arroyo as the successor of AFP chief Gen. Alexander Yano, who will retire from the military service on June 13.