A hand grenade exploded inside a police detachment yesterday morning, killing a veteran member of the Explosives and Ordnance Division, and wounding three members of the Special Weapons and Tactics (SWAT) team.
Water district officials banding under the Water District's General Managers Association (GMA) – Panay are seeking for the declaration of Iloilo to be under a "water crisis" state.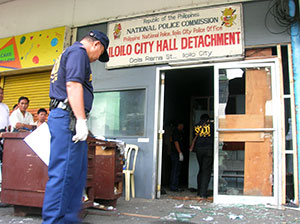 PPP ILOILO
BACOLOD CITY -- In compliance with the Ecological Solid Waste Management Act or R.A. 9003, the city government of Bacolod will strictly enforce the "no segregation, no collection" policy starting today.