PURR
Support for the Special Program for the Arts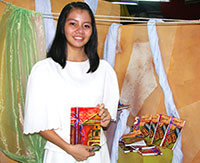 Eunice Guadalope presents her book
Handumanan kag Sarit saring Colors.
This is the second installment of Panan-awan 2009.
If every young artist takes pride in one's work, so does one's parent or guardian. The parents and guardians of the 9th Generation Recitalists of the Iloilo National High School Special Program for the Arts were in full force during their children and wards' art exhibit, book launching cum graduation.
No less than Dr. Riza Sargado Amaguin, the pioneering force behind the school's Special Program for the Arts, gave her words of inspiration.
The 9th Generation Recitalists are Earl Michael Mombay Capalla, Ron Matthews Espinosa, Maru Balgos, Rachel Anne Gonzales, Marie Danielle Cabalum, Christopher Cabrera, Marc Dominic Garcisto, Bernardo Rio Vargas, Kim Fabronero, Coleen Octavio and Eunice Guadalope.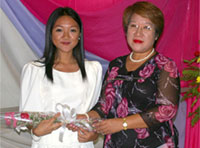 Rachel Ann and Annie Gonzales.