Coffee scrub, anyone?: Feel detoxified and be slim after several sessions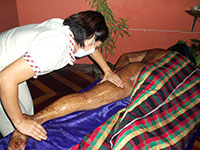 The therapist massages with the
coffee scrub.
Wanting to relax after a long day at work, we just love to have coffee. In my case, there's nothing that beats a time to have coffee with my girlfriends. But, I discovered another way to relax. Alone, with soothing music and coffee on your body.
Skinetics offers several body scrubs and one of them is the coffee scrub under its Vital Force Energy Treatment.
In one research in the United States, coffee was found to have the highest level of antioxidants. We know that antioxidants have health benefits, including protection against heart disease and cancer.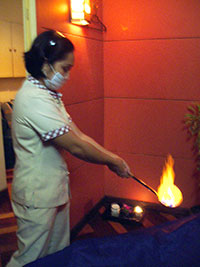 Heat is applied while the client is being
wrapped.
Thus, a coffee scrub has a detoxification or cleansing effect on the skin. It also firms the skin, so a massage with coffee scrub becomes a slimming massage. The squeezing of the different parts of the body releases fat and toxins from it.
The Process
After getting a good shower, lie down with your back facing the therapist. The client is half draped, with the exposed part of the body being the first to be applied with coffee. Once the body is filled with coffee, the therapist exfoliates the skin by scrubbing the skin with the coffee. Then, the therapist applies coffee mixed with essential oils on the body and starts the massage. She works on the first half of the body. After that, she covers the finished body part and exposes the other half for her to work on. Any client who worries about taking off all her clothes don't feel shy at all because of this procedure of proper covering. The client turns over and the therapist wraps the client with a cloth and applies heat. The scrubbing and massage process is done again on this side.
After the Treatment
Skinetics advises that a client who finishes the Vital Force Energy Treatment should avoid drinking cold water, softdrinks, alcohol or sweetened sweets. After all, you just had yourself detoxified, so why waste all of the effort by drinking unhealthy beverages? Instead, eat more fruits and vegetables.
Other Scrubs
Skinetics also offers Chocolate Scrub, Rose Scrub, Yellow Scrub and Green Scrub. Chocolate is known as an anti-depressant, thus a chocolate scrub enhances one's mood as well as smoothens and softens the skin. The rose is a cure for skin problems, thus, the Rose Scrub is a good anti-wrinkle process. It moisturizes skin and is good for skin problems. The Yellow Scrub detoxifies while the Green Scrub is a natural gluthathione. You need to book ahead for the said scrubs.
For more information about Skinetics body scrubs and its other services, contact 337667 or 09195214625.