Emilion's Japanese buffet through the years: A great way to solve that craving for Japanese cuisine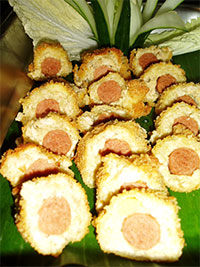 Tori Sausage Rorooke.
I could still remember when Emilion Restaurant started with its Japanese buffet. It was quite popular, with people lining up for their dose of Japanese food twice a week at this cozy restaurant located at the second floor of Grand Dame Hotel, La Paz.
They kept innovating and added new dishes in order to provide Ilonggos a varied taste of Japanese cooking, which we have grown accustomed to because Emilion has suited their dishes to our taste.
Try their Tori Tama Toji soup, which consists of cuts of tender chicken; a great way to start one's dining experience. Try the appetizing Kani Ham Salad, which is mainly refreshing because of its cucumber and mango content, plus kani and ham. Truly an ideal appetizer during a sunny day. Sakana Teriyaki is great for fish lovers. Pair it with Seafood Pineapple Rice, which consists of shrimps, eggs, carrots, bell pepper and pineapple, to name a few.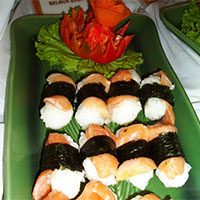 Salmon Sushi.
At the dessert table is the all-time favorite halo-halo and rich and creamy JD Cakes.
Emilion's Japanese buffet is offered every lunch and dinner during Tuesdays and Fridays. The restaurant offers a Manager's Discount at P300 (the regular price is P375) while children below four feet will pay only P210.
During Saturdays and Mondays, Emilion offers International Buffet for lunch and dinner at P350 for adults and P195 for children below four feet. A Manager's Discounted price is P275.