Summer Seafood Lovin': Enjoy the Best Seafood Dishes this Summer at BAUHINIA Filipino Cuisine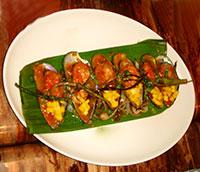 Guisadong Tahong.
It's strange to see a tableful of noisy eaters stunned into silence by the mere sight of food. But that was what happened the other day when BAUHINIA's Miner del Mundo served an array of seafood dishes for us to sample. If we were dumbstruck by just looking at the food, what do you think happened when we tasted them?
Before catatonia could claim us, Chef Miner snapped us back into consciousness with Tinumok, a delectable dish of Norwegian Salmon wrapped in taro leaves with coconut meat and select vegetables. We were tongue-tied by what came after, spicy Pritong Asuos with Bagoong Sauce (deep-fried boneless Asuos fish tossed in bagoong sauce with tomatoes and sili) and Kare-Kare na Lamang Dagat which was mixed seafood cooked with native vegetables and peanut sauce. (The sauce itself was so yummy that we ordered extra on the side!)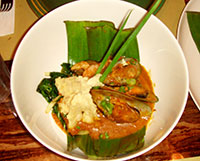 Kare-Kare na Lamang Dagat.
We couldn't let go of the Kare-Kare, so Chef had to wean us with the hot and sour perfection of Sinigang na Sugpo sa Kamatis and Tortang Talong at Hipon (eggplant and shrimp omelet with garlic-mayo sauce). My personal favorite was Guisadong Tahong, an appetizing dish of sautéed New Zealand mussels with guisado sauce, diced mangoes and lots of onions.
We were told that Bauhinia has eight seafood dishes for diners to enjoy starting this last week of March until the merry month of May as part of their "Seafood Summer Special." Expect dishes like Adobong Pusit sa Gata and Calamares at Gambas Rebosado to excite your taste buds only at Bauhinia at The Avenue.
I went home with the sweet after-taste of Turon Trio (jackfruit, ube, and plantain wrapped in springroll wrappers) in my mouth and thoughts of more luscious seafood dishes in my mind.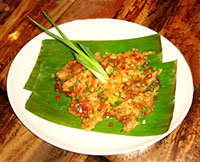 Pritong Asuos with Bagoong Sauce.
If you love seafood, visit Bauhinia Filipino Cuisine this summer at The Avenue, G. Pison Ave., Brgy. San Rafael, Mandurriao, Iloilo City.