Food Showdown 2009: Ilonggos to represent Visayas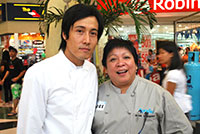 Villaluna with Myrna Segismundo.
Three Ilonggos are going to represent Visayas in the Food Showdown in Manila soon.
Ramlo Villaluna, Troy Cachero and Vincent Uy's team won during the Food Showdown Regional Elimination last Feb. 27, 2009 at Robinsons Place Iloilo.
Their team competed against other good chefs from different restaurants. "They're also the best, that's why winning was no easy feat."
Villaluna said that winning was the last thing in his mind in joining the competition. "What was in my mind is to show what I am capable of doing, by giving all my best and deliver what is expected," he added.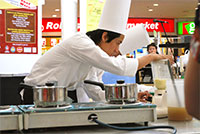 Chef at work.
"The competition category was classical French cuisine. The world-acclaimed French cuisine is essentially a system of cooking that has transformed regional dishes into elaborate ones. In the competition, we played with various ingredients that matched one with the other from carefully prepared sauces down to the most detailed garnishments. But the main star of the dish was lapu-lapu," said Villaluna.
Their entires were: Appetizer - Grouper Ceviche with achovy aioli, organic mesclun and grapes; Soup - Poached Quenelles of Grouper with Duet of shitake and dried mushrooms on two roasted bell pepper soup; and main dish - Pan-seared Bacon Wrapped Gouper with lemon lentils and roasted garlic mousselline.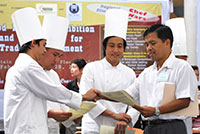 The awarding.
The judges were from Manila, all experts in the field of culinary arts. The head of the panel was Myrna Segismundo, noted for promoting Filipino cuisine. She is also the author of different recipe books.
The team has six months to prepare and has started to discuss and conceptualize the entry it will fill in. The competition is on Sept. 4, 2009 in Manila, with Chef Wars as the highlight of the event.
Villaluna said that he is thankful to the Iloilo Convention and Visitors Bureau for their support to Team Iloilo. "Also thanks to our coach Miner del mundo and to our teammates who worked hard and sacrificed their time during our daily practice.
At present, Villaluna is busy concentrating on his catering business and doing research and development work. He is also hosting a television segment. He is a culinary instructor.