The Celebrity Food Showdown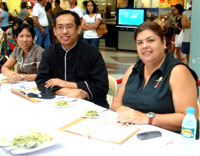 Judges. Ruby del Mar, Miner del Mundo
and Marichel Magalona.
Celebrities can cook, too. Take the case of GMA Network's Varv in Hope Simon Hinola aka Mama Monyeka of GMA and Charlotte Gertrude Tan-Baterina, formerly of GMA.
Varvin's dish, Balunggay Pesto, was hailed as Best in Taste and Most Original Dish while Charlotte's Chicken Casserole ala Ger was hailed as Best in Food Preparation.
"Ever since, I loved to cook but recipes don't like me. Joke," said Varvin. "I'm into paniningad (observation) and I have learned a lot from it. In short, my role in the kitchen is 'hilabtera'," he added, laughing. Varvin has been known for his sense of humor.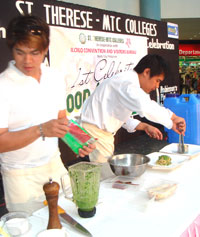 Varvin Hinola and Benedict Benedicto.
He didn't expect to win. In fact, he was hesitant to join but for the sake of fun and experience, he did.
Gertrude didn't expect to win the Best in Presentation award because her knowledge in cooking is "just for passing time at home" and handed down by her father. "It was an enriching experience, something totally different from my previous career in the broadcast industry," she said.
Of course, they wouldn't have made their awards without the help of Benedict Benedicto and Oigue Janito, chefs from St. Therese MTC Colleges. The said school and the Iloilo Convention and Visitors Bureau concocted such project called the "First Celebrity Food Showdown" held at the Robinsons Place Iloilo last March 5, 2009.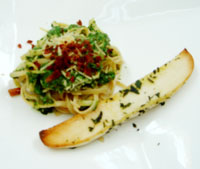 Balunggay Pesto.
The judges were The News Today's Managing Director Marichel Teves-Magalona, Food Consultant Miner del Mundo and Ruby Dela Mar.
Also, at the event, the Flair Maniacs Bartenders' Club, Hugyaw Arts Company and Handuraw All-male Chorale gave intermission numbers.