Remembering Geoff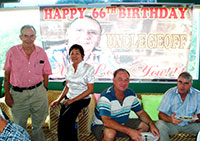 Ben, Ofelia Stammers, David and Dan.
Geoffrey Stammers or "Uncle Geoff" to many, was remembered by family and friends during a celebration of his birthday and death anniversary last Marcy 2, 2009 at the Stammers residence.
Geoff's wife, Ofelia said that it was a great way to gather her husband's friends and for them to have fun together. Those who attended were members of the Rotary Club of Iloilo City where Geoff was part of, as well as his fellow golfers and members of the Euro Club. Also in attendance were Ofelia's friends from the YLAC of Miagao, a Catholic ladies group.
The dishes were superb, as they were prepared by Biscocho Haus. Wine was overflowing, as well as Jack Daniels, a favorite of Geoff's.
Another unforgettable part of the party was when everybody sang Geoff's theme song, "If We Hold on Together."
Indeed, it was a great way to be together – remembering a loved one, sharing food, drinks and wonderful conversations.